Nissan's Around-View Monitor is a useful assistant for parking in those tight spaces, or maneuvering around a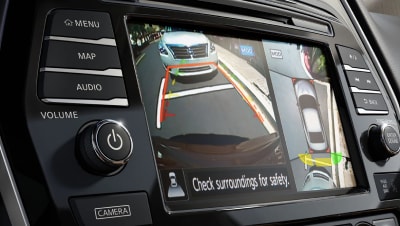 busy parking lot. This feature provides a display that gives you a bird's-eye-view of your Nissan, looking down so you have an all-around view.
How does that work exactly? There are 4 integrated wide angle cameras mounted on the rear of your vehicle, the front, and both side mirrors. With the video footage, an image processing unit in the vehicle processes the information.These intelligent cameras create a virtual composite of your surroundings. Cool, huh? This feature comes on as soon as you shift your Nissan into reverse. The screen shows a split display, one side being the reverse camera view, and the other providing the virtual composite. Keep in mind that this composite is only made up of what the cameras can detect within their view.
In the reverse camera, there are guidelines in place so you can figure the distance between you and an object.
The distance from vehicle to guidelines are as follows:
Red: about 1.5 ft away
Yellow: about 3 ft away
Green 1: about 7 ft away
Green 2 (if Nissan is equipped): about 10 ft away
When turning the wheel in reverse, the guidelines will move into the course they determine you're going. These moving lines are known as the the predicted course lines. You can also press a quick button to switch to the convenient curbside view. A great way to prevent the dreaded curb rash.Once you're back in drive, the Around-View Monitor will display the front camera view until the vehicle reaches over 5MPH.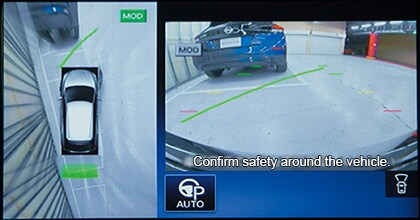 And remember, the Nissan Around-View Monitor should always be used as an assistant and not a replacement for practicing safe driving methods. Check your blind spots!

Are you interested in seeing how the Around-View monitor works for yourself? Head to Speck Nissan in Sunnyside and talk to one of our sales experts today!
Check out our New Nissan inventory at Speck Nissan online by clicking here.